Dance Hall Crashers
Purr (Pink & Black Records)
By: Alex Steininger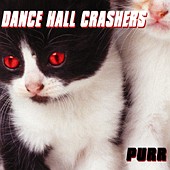 The first release on Pink & Black, a new label distributed by Fat Wreck Chords and featuring female-fronted bands, is the Dance Hall Crashers forth album. Pop-punk with a ska tint, the dual female-fronted band returns to an indie label with a sugary, sweet sound sure to give you plenty of cavities.

The album opens up with some sarcastic humor on "Beverly Kills." Your standard Fat Wreck Chords pop-punk with female vocals, somehow the band pulls it off and makes it sound more enthused, energetic, and even catchier than their fellow pop-punk contemporaries. "The Real You" is the same way; it maintains a very typical, over-done pop-punk sound that has been beaten to death so many times. But, Karina and Elyse turn the song into something else with lead and backing vocals that are filled with harmony, helping to bring up the melody of the song.

"Remember To Breathe" goes deep into the stereotypical NOFX, Fat Wreck Chords pop-punk sound. Even they can't make it work. The song is a mediocre pop-punk knock-off of everything else already out there. The ska ending tries to help save the song from the pop-punk junkyard, but just doesn't do the job. "Make Her Purr" shows the band's pop-ska-punk side, which dabbles in the ska, but always reaches back into their pop-punk backgrounds, and this time without the catchy, melody-filled choruses laden with hooks.

Other songs like "Do You Think You're Beautiful," "Cat Fight," and "Won't Be The Same" all continue on down the band's deteriorating path. They started out with a bang, but all the infectious-ness and spunk that made the beginning of the disc crazy is lost as Fat Mike's production and the band's pop-punk side take over and bring the band below the mediocrity line.

"Cricket" though, a soft acoustic number, gives the disc a bit of life, and puts forth a few compelling reasons why you should give this disc a shot. But, in the end, the pop-punk eats away at you and will remind you of everything else already out there. I'll give it a C.