at.the.drive.in
Vaya (Fearless Records)
By: Alex Steininger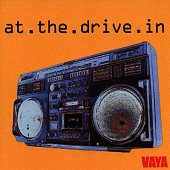 On their new seven-song EP, at.the.drive.in take their emo sound further into the hardcore realm while also experimenting with different sounds and styles. The outcome is a bland new disc that lacks the melody, emotion, and power.

"Rascuache," "Proxima Centauri," "Heliotrope," and "300 MHz" all consist of yelling over soft and hard beats. The music is void of anything emotional or pulling. Rather, you're forced to listen to track after track of screaming, yelling, and some breathy talking while the music plays something different. "198d" is the only song with potential; it's soft, sensitive side gives off a glimpse of hope for this band, where as the rest of the tracks do not.

"198d" is a great emo song. It does everything it should: touches your heart, makes you feel everything the lyrics are expressing to you, and draws you into the song. The rest of the tracks do not and were completely lost on me. I'll give it a D.