AMEN
AMEN (I Am Recordings/Roadrunner Records)
By: Alex Steininger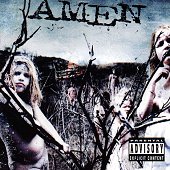 Completely discontent with society, AMEN, the latest addition to Ross Robinson's Roadrunner Records imprint, I Am Recordings, is the angriest, loudest, snotiest band to come out in a long time. They're pissed off, noisy, and not afraid to spit in the face of anyone standing in their way. Their debut is explosive, bloody, and in-your-face from start to finish.

"Coma America" is punk with an underlined theme of hardcore and hard-hitting, groove-filled heavy rock that will knock your socks off. "Drive" is the same way. The rhythm section beats the shit out of whatever is in its way. The guitar slices through your skull with ease. And the vocals scream and scream, pushing the limits on the vocal chords, adding a bloody, eerie vibe to the music that will tear you in half and bring you to tears if you don't watch your back.

The rest of the album is the same damn way, too. "When A Man Dies A Woman," "TV Womb," and "The Last Time" all share a lot in common with other acts producer/label man Ross Robinson has produced, as well as the punk influences who brought this band to life. They're hard, heavy, groove-filled rockcore with tremendous roots in heavy rock, metal, hardcore, grindcore, and, of course, punk rock.

If you're ready to have your head ripped off of your body, this is the band to dig. They're angry, furious, pissed-off, and ready for the kill. Only the faintest hint of blood and there they will be, fighting to the death. I'll give this album a B.