Agnostic Front
Riot Riot Upstart (Epitaph Records)
By: Alex Steininger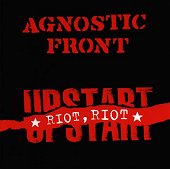 New York's Agnostic Front are back at it again, writing political, super-aggressive hardcore songs that define what hardcore is all about. The songs are wicked, cutting edge, brutal, and surrounded by anger and frustration. They not only speak to you, but also speak for you. On their new full-length the band proves that constant touring and a desire to speak your mind make for great music.

A big fuck you to the New York mayor, "Police State" is about as bloody as hardcore comes. The song gives you a swift, painful kick to the ass and just keeps on beating down on you until you jump into the song and feed off of its energy. The title track keeps the good times coming with more sweaty, furious, in-your-face hardcore that won't let go.

What do you expect from one of the most well-known, most respected hardcore bands out there today? Agnostic Front not only give you the energy to take your views and beliefs to the next level, but they also give bands the fuel to get up and speak their minds through music too. And that is exactly what RIOT RIOT UPSTART is. It's an inspirational record filled with all the fuel you'll need to rev up, get going, and run through any barriers that life throws at you to bring you down. "Frustration," "Blood, Death & Taxes," "Trust," "My Life," "Rock Star," and the entire seventeen track disc are all classic hardcore cuts that will tear you apart if you're not prepared for them.

Short, rough, and to the point, Agnostic Front doesn't have time to waste on frills. They're all about the meat and potatoes of hardcore. If it needs to be said, they come right out and say it with some bold music behind it. And once its been said, they cut it off and jump on to the next song. Here is an example of what hardcore should be. I'll give it an A.