SHOW REVIEW: Able
August 27, 1999 -- The Southgate House (Newport, Kentucky)
By: Kimberly Gaskins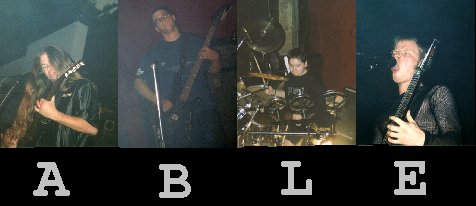 Friends.... Fun.... A (so-called) haunted mansion, what more could you ask for? Music you say? Oh! we had music! A total of five bands played The Southgate House in Newport Kentucky, on August 27th, 1999. I'm just going to talk about one band. A rock quartet called Able.

Able took the stage at around 1 a.m. They were the last band to perform that night. Kevin Peters (vocals/guitar), Gary Baker (vocals/guitar), Mike Bobonick (bass), and Kris Swain (drums) were definitely pumped and ready to put on an awesome show!

On the stage the lighting and fog was a great affect. The show began with a favorite song of mine "Broken Shell of Me." By the end of the 3rd song a cover of Korn "Blind," the snare head broke, since four other drummers had used the same kit that night. They quickly replaced it, and continued with a cover of Tool "Sober."

The rest of the show went really well. They performed original songs like "No More Pain," "Same," "Tear Me Out," and even a drum solo. The show also consisted of a few more cover songs. By Creed, The Cats, and a cover of a Misfits song called "Dig Up Her Bones." That had to be my favorite cover that they played.

The show ended with an instrumental called "A Timeless Mindless." The band seemed to be having a lot of fun with that. The whole show turned out to be great, everyone seemed to enjoy it! When you see Able perform, expect to see an awesome stage act, and a lot of energy from the band. They love making and playing music, and it really shows. I bet everyone will be seeing a lot of this band in the future.