The Verve Pipe
The Verve Pipe (RCA Records)
By: Alex Steininger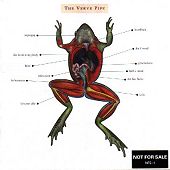 Following up a smash-hit album like 1996's quintet selling VILLAINS can be a tough thing to do; after you've sold that many records the only place to go is down. But, The Verve Pipe have managed to lift themselves up, record an album they're proud of, and shake off all expectations and just rock.

"Hero," the first single, is a sonic texture of guitar driven modern rock and well-crafted pop music that easily glides over the edgier parts of the music. The lyrics also play a big role in the music. They're deep, but not too deep. They don't fly over your head, and often speak to you in everyday language, like "I'm just a jerk, but a hero's what I want to be."

"In Between" showcases the band's ability to write finely structured pop music while "Kiss Me Idle" allows the band to dwell even deeper into pop sensibilities, letting go of the rock and just calmly laying it all on the line.

"The F Word" finds the band going at it in full force, rocking out to prove they can rock out, and "Half A Mind" is once again the complete opposite. Instead of rocking out, it goes tender. The band has the ability to shake you up and rattle you some before forcing you to come down with some tender melodies and soft pop.

THE VERVE PIPE is a more-mature, more thought-out, better-produced and structured album than VILLAINS; the songwriting has doubled since they last released an album. But, this album has its flaws too. The Verve Pipe's modern rock isn't nearly as affective as their tender pop. Sometimes when they try to rock out they back themselves into a corner, whereas with the pop they lift both themselves and the listener out of it. I just wish they went softer on all the tracks. I'll give the album a B-.