Verbena
Into The Pink (Capitol Records)
By: Alex Steininger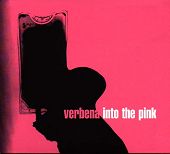 Capitol Records latest modern rock offering is Alabama's three-piece, blistering combo Verbena. The Foo Fighters' Dave Grohl produced their second LP, INTO THE PINK, and although the songs resemble that of Dave's work in Nirvana and Foo Fighters, this group is neither of those bands. Though they never come close to capturing the raw, emotional power Nirvana had, and despite the fact people have been labeling them the next Nirvana, Verbena create some shit-kickin' good times as they aggressively plow through dark textures and eerie hooks.

"Lovely Isn't Love" opens the album with vocals over a piano; female backing vocals help add a lighter, lovelier touch to the music, but the moody piano and dark vocals keep the song down. From there though, the band hits the mark with their assault of sonic modern rock on cuts like "Into the Pink," the lyrically-twisted "Baby Got Shot," "Pretty Please," "Oh My," and "Sympathy Was Dead." They also choose to end the album just as they opened it, on the lighter side. "Big Skies, Black Rainbows," is carried by the light guitar and mournful vocals. Once again, the backing female vocalist tries to cheer things up a bit with her pretty voice, but combined with the mourning nature of the song, the song becomes that much more morbid.

Don't get me wrong; this isn't a morbid-crazed, death-driven band obsessed with demons and such (at least I don't think so). But, they do have their morbid side, and as the album winds down, you'll feel it's eerie legs crawling up your arms. That's rock 'n' roll though, scary and unpredictable. And, the music's not that bad. It isn't new or original, but does have some moments that you'll really get into. I'll give it a B.