The Step Kings
Let's Get It On! (Fantastic Plastic Records)
By: Alex Steininger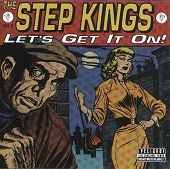 Self-described as "post-hardcore," New York's The Step Kings take a heavy metal groove, blend it with some hard rockin' mayhem, and then spill some punk rock and melodic, heart-pounding venom into the mix and come up with a sound with as much sting as a "bottle of aftershave on a nice clean cut to the face."

The first time I listened to the album I thought The Step Kings was just another band trying to cash in on the heavy trend as of late (a la Korn, Deftones, Kid Rock, etc.). But, upon closer examination, songs like "Friends," "Independence Day" (which has a nice lead in sample), "The Morning Stretch," "Eleven," and the album closer "Questions?," were all so mind-blowing furious, you can't help but feel, and feed off of, the energy contained within. Punch for punch, and pound for pound, the band takes the word heavy, adds some weight, and re-defines it when applied to music.

Loud, screaming, and ripping at your heart, The Step Kings go until enough is enough, and then and only then, do they truly begin. They're not afraid to creep up on you and make you fear them; matter of fact, they enjoy it. This album will shock, stimulate, and keep you awake for hours with its adrenaline rushes. I'll give it a B.