Staind
Just Go Mudshovel (Flip/Elektra)
By: Alex Steininger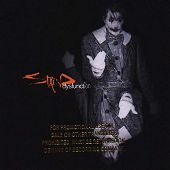 Springfield, Massachusetts' Staind got lucky when their friends, who were opening for Limp Bizkit, invited them on the bill too. At first Limp Bizkit's frontman, Fred Durst, wasn't a fan at all. "Twenty minutes before the show, Fred saw it [the cover art for their debut CD, which depicts a Bible impaled on a knife with a Barbie hanging upside down from a cross], and he got in our faces, asking if we were devil worshippers, which we aren't. He threw the CD across the room and tried to get us kicked off the bill. Here we wanted them to like us, and they hated us before we played a note. So much for the big break," explains Mike Mushok, Staind's guitarist.

But, after being persuaded to allow the band to stay on the bill, and seeing the band live, Fred instantly became a fan. Eventually getting their new four-song demo into the hands of Fred, they soon landed a deal with Limp Bizkit's label, Flip Records. Similar in style to Limp Bizkit, but with less rap and more melodic sense to them, Staind play heavy and loud, ripping through some pounding, screaming-headache hard rock that has bone-crunching potential.

Songs like "Me" and "Mudshovel" possess a deep groove next to screeching guitars and melodic-focused screams. Then there are numbers like "A Flat," "Crawl," and especially "Spleen," which abrasively try to rip the flesh off your face with fist pounding metal-rock.

Though they are derivative of a lot of the rap-rock and hard rock sounds that are filling up the modern rock airwaves, Staind have enough grooves and anger to push them up the list, if not to top, then in the upper half of things. This disc is loud, very loud; I'll give it a C+.