Happy Fernandez
Happy Fernandez (Short Arm Records)
By: Alex Steininger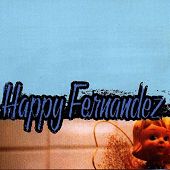 New York's Happy Fernandez, lead by singer/songwriter/guitarist Jeremy Fitzkee, blend the windy, fresh-breath sound of indie pop with a more power-pop based bounce. The songs can be either tender or danceable, leaving you with the options to sit and ponder or get up and move to the music.

"Jenny" is an indie-pop-gone-power-pop song that has the tenderness and light feel of indie pop, but also possesses the kick-in-the-ass bounce that is common in well-structured power pop. Then there is "Less Than Brilliant," a more subdued number that is all indie pop. It will have you sitting back in your chair pondering each word as they flutter around in your head.

Of course, there is also the heavy-metal guitar crunch of "Martina." Though, not one of the better songs on the disc, opting to leave the pop behind and heading off in a more forceful rock direction, album closer "L.A.'s Erosion" quickly erases any memory "Martina" may leave behind.

Happy Fernandez definitely shows promise on their debut. The songs need to come together a bit more, with more time and energy put in the songs. But, like a young flower bud, Jeremy Fitzkee's songs seem to be blossoming as you listen to them. I'll give the album a C+.