The Frames
Dance The Devil... (ZTT/Universal Records)
By: Alex Steininger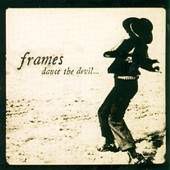 It's rare in this day and age of over embellished modern rock and watered down pop music to hear a band that can blend pop and rock into a gusty, heart-felt sound that doesn't over do the modern rock, doesn't overkill the pop, but just sits on the edge of both and never lets the listener know which genre is pulling the song the must. But, Dublin's quintet The Frames manage to pull if off.

"Pavement Tune," the first single, starts out with sharp guitars and starts to snowballing into an intense modern rock number before the vocals come in and add a hearty, depth-filled emotional edge to the music that touches on pop influences rather than the rock side of things. Embracing this is the chorus, which slips in some juicy pop hooks, while the verses keep the rock ample enough to make the number an upbeat, forceful drive lead by guitars and a hammering rhythm section. The strings help add some pop credibility as well, making things a bit lusher and adding a tenderness that clashes with the edginess of the rock.

"Plateau," on the other hand," is all tender, heart-on-the-sleeve pop music that is warm and inviting, while also carrying on with a broken hearted sadness that verges on the edge of tear-jerking. Then you have "The Stars Are Underground," another loud driver that will keep you on your toes.

"Rent Day Blues" incorporates the harmonious "celebrate good times, come on" line into the song while wrapping everything around folk-infused pop-rock. "Hollocaine" starts out like an acoustic ballad and then the electric guitars and background screams jump in and change the pace a bit. And then there is "Dance The Devil Back Into His Hole," a soft pop-rock number that will melt your heart.

The Frames manage to shake things up without losing anything they are trying to accomplish; they can knock on your door with some rock, calm you down with some pop, or make your feelings surface with some soft ballads. Take notice, this band has staying power. I'll give it an A-.