Errortype:11
The Crank EP (Crank! Records)
By: Alex Steininger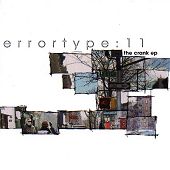 A three-piece with the emotional drive and skills to go from blistering, powerful rock to emo and back again with some soft pop-rock, ET:11 dish out an emo dish with plenty of side helpings on THE CRANK EP.

Opening with "I Wonder How (To Make It real)," the band begins the emo-rock journey the listener embarks on. Filled with hooks, feelings straight from the gut that strike you in the gut and make you listen, and a solid rhythm section, ET:11 quickly warm you up for what is to come.

"Language of Your Own" is less rock and more emo than the opener, but just as melodic and sweet while "Right Again" shows the band combining the above mentioned styles into one: from slow and soft to hard and rockin', the band exemplifies emo on this one. Then there is the beautiful acoustic-ness of "Collecting Dust," the album stand out, which will leave you with a melted heart and a million thoughts running through your head. And then there is the album closer, "There Goes Another One," a throwaway that found its way onto the disc.

On EP's you have to keep the listener interested throughout, or else you'll lose them. And although the band loses you at the end, up until "There Goes Another One," the band was close, if not on, the mark. I'll give this a B-.