Mads Ericksen
Suburban Cowboy (Holographic Records)
By: Alex Steininger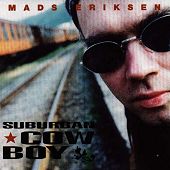 Norwegian guitar virtuoso Mads (pronounced Mats) Eriksen finds his North American debut on SUBURBAN COWBOY, an instrumental country album that takes nose dives into heavy metal, pop, and rock 'n' roll, but always keeps the country sounds in range.

Now, Mads has plenty of chops, and is obviously very skilled at playing the guitar. And though his chops can take him many places, after a while the effect starts to wear off. The album's eleven tracks are all very different, but without lyrics or a voice, the album starts to meander into the back of your mind as you push it aside and focus on something else. It is a good album to listen to while doing other things; tracks like "Suburban Cowboy," "The Plough Boy," and "Western Trash" will keep the music flowing in the background while you work on other things. But, as an album to just sit down and listen to, it is not.

The skill is at a very high, professional level and the instrumentation are often complex. Mads has composed a well-rounded, tight package. But, its shortcomings are felt; they're felt very hard and keep the album down. It is decent, though, without vocals, but could be so much more. I'll give it a C-.