Dumptruck
Terminal (Devil In The Woods)
By: Alex Steininger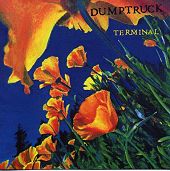 Led by singer/songwriter/guitarist Seth Tiven, Dumptruck is an indie rock band with guitar-driven pop hooks and sensible lyrics that will make you think, feel and, most importantly, understand where Seth and the music are coming from. On their latest, TERMINAL, it is not the end, but the current and future for Dumptruck.

"Forever" leads off with the lines "Fucked up everything/ Took it all for granted/ Watched you slip away." Charged by the roar of the guitars and the 'almost-beaten, but never-gonna-given-in' voice of Seth Tiven, Dumptruck strike a chord with the listener without forcing emotion or sorrow on you. Seth is able to tell it how it is, in language for the common man, and make you feel every gripping word.

"Long Ride" is R.E.M. influenced rocker that is more focused on reminiscing on the past than moving on; but, as it struggles to move on, it seems to be taking leaps and bounds, while never forgetting the past which demonized its soul.

"Medication" is another indie rocker at heart. But, as things begin to feel redundant in sound, the song is shaken up and toned down to make the words hit you in the face as they are sung. The guitars are still powerful and up front, but their buzz is gone. Instead, they are lighter and more drawn out, to make sure the words can be felt and impact you more.

Then on "Evening of Fun," a country tingle is thrown into the mix. The Mandolin furthers the country feel, while Seth's vocals are about as down home and honest as they come; you can't help but feel as if Seth is singing to himself in his room trying to understand, and fix, his own life.

The songs are universal, but there is a great sense of redemption and repair here. Seth's personal touch transcends throughout the album as he struggles to cope, manages to understand, and looks for a positive future amidst the depression, pain, and heartache that haunts all of us. The straight-from-the-heart lyrics in this album are worth it alone, though the music can sometimes get in the way of the true power of the words. I'll give it a B.