Marc Almond
Open All Night (Instinct Records)
By: Alex Steininger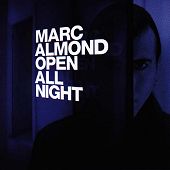 Former one-half of Soft Cell (the band that coined the hit "Tainted Love" in 1981), Marc Almond is back with his first U.S. release in eight years. OPEN ALL NIGHT travels through trip-hop, gothic, and soul boundaries, weaving through each musical style with ease, and never allowing anything to seem forced or out-of-place.

"Bad People Kiss" is a dark, haunting Goth number with ambience everywhere you turn whereas "Night & Dark" is a psychedelic amazement of trip-hop and jazz. Marc's voice goes from mysterious and dark on "Bad People Kiss" to slippery and graceful on "Night & Dark." Then there is "Tragedy (Take A Look and See)," which possesses a mind-blowin' drum loop coupled with Marc's melodic, yet dark, voice which has no problem singing along with a very melodic backdrop or along side an isolated tune.

Complex. Dark. Bright. Sophisticated. These are all words you can use to describe Marc Almond's latest solo effort. But, once you begin listening, the music will become a crucial part of your day; it's textured sound will grow and grow on you until you can't resist, and then you will cave in and fall head over feet for it. I'll give it a B+.