Acumen
Out of Balance (Holographic Records)
By: Alex Steininger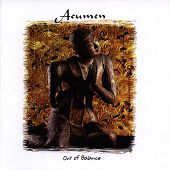 Acumen is simply bad progressive rock. This five-piece band takes different paths throughout this thirteen track disc, but all the paths they end up taking lead to the same place -- sub-par levels of horrendous music that is as stereotypical, generic "progressive rock" as it comes. Sure, they throw in other influences and try to shake things up, but it all comes back around and turns into a song loosely based on junk.

I hate being so harsh on any musician or group of musicians who put their blood, sweat, and tears into what they love, but there isn't any viable music that lasts longer then twenty seconds throughout this entire disc. From start to finish the disc just hangs there and never tries to capture the listener's attention; it just keeps on doing what it wants to, and what it wants to be doing just isn't that good. I'll give it a D-.