Showoff
Showoff (Maverick)
By: Alex Steininger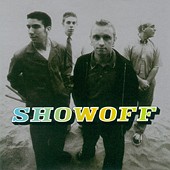 A four-piece ranging in age from 19-22, Chicago's Showoff blend modern rock and pop-punk to come up with their watered down, run-of-the-mill, so-called punk sound. Though, the album does have its high points. It isn't all modern rock passing itself off as punk.

Songs like "The Anti-Song," a counter punch to anyone who doubts them, with guest vocals from producer John Feldmann (Goldfinger), show the band has punk inklings somewhere. "Second Chance" and "Someone" show the band has the ability to write decent pop songs, while "Backstab" finds them trying to push forward with their punk side. But, as a song like "Unspoken Words" will testify to, the band falls short on their punk rock, but comes close to the mark and displays a vast amount of promise on their straight forward pop numbers.

This album is a conflict between a band that wants to waste its time with youthful, generic punk rock because they think that is where they belong and a band that wants to develop as a strong pop outfit. When they're pop, they are quite listen-able and often pleasurable, with promise clearly displayed. But, when they're trying to play their so-called brand of punk, they're nothing more than a bunch of kids trying to be cool. I'll give the album a C.