30footFALL
Ever Revolving, Never Evolving (Nitro Records)
By: Alex Steininger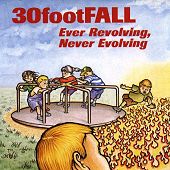 Houston's pop-punk four-piece, 30footFALL, are back with their third full-length. A collection of fifteen fast, sweaty, and poppy numbers, calculated around humor and often deeply buried meanings, the band may not be anything new or original, but they can be fun.

Now, it's true, 30footFALL fall into the stereotypical Southern Cali pop-punk sound; but, that doesn't mean you still can't enjoy them. The music is not mind-blowing or ground breaking, but it is packed full of humor and fun, so if you give it a chance, you'll end up having some fun too.

Tracks like "Better Off Dead," Kirk Cameron Sings the Blues," "Opposite Day," "Just Like Heaven," and "Half Empty" all possess a charged, revved up powerhouse of thick, screaming guitars, bouncy rhythm beats, and pretty clean vocals which get the sugary punches flying and floor you if you're not careful. "How I Became the Jerk," where, instead of singing, they talk and the metal-hardcore of "Metal Killed My Cat" are the album low points, but there is enough high(er) points to balance it out. A good pop-punk album; I'll give it a C+.