Pigshit
Eight Questions for Rick N. Harper (HiVariety Recordings: PO Box 93, Finchville, KY 40022-0093)
By: Gary "Pig" Gold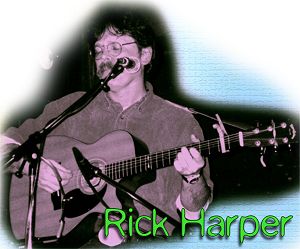 Pete Townshend does it. So do John Fogerty and Lindsey Buckingham. Les Paul has been doing it since WWII, and McCartney is STILL doing it. And nowadays, with the advent of affordable home studio gear, it seems almost EVERYBODY'S doing it. Or at least trying to.

Without doubt however, one of those most melodically versed in the delicate art of not only Music making, but RECORD making, is Kentucky's one and only Rick Harper. Listening closely since the Sixties, writing and performing since the Seventies (including stints with Billy Swan, a Kentucky Fried jingle with Jerry Reed, and his very own Breathers band), Rick has spent the last couple'a decades home-recording up an absolutely monstrous catalog of hand-crafted gems, a few dozen of which are now proudly floating around digital domains both far and wide, and to deservedly great acclaim too I'll have you know.

Rick gamely took time out from his next session to let US know.

1. "MUNSTERS" OR "ADDAMS FAMILY": WHICH ONE'S FOR YOU, AND WHY?
"Addams Family." Anything with John Astin (that his name)? is OK w/ me. He should be given a grant and a small state someplace just for his role in "Candy." Lurch was cool. Thing was pretty happenin'. Probably works the adult stalls on Carnaby Street these days. "The Munsters" was about as cerebral as "Car 54."
2. WHO IN THE WORLD, LIVING OR DEAD, WOULD YOU MOST LIKE TO PLAY A GAME OF "TWISTER" WITH?
Jane Asher.
3. HOW MANY SID KING & THE FIVE STRINGS RECORDS DO YOU OWN?
'fraid I don't know who he is. Send me a tape? Wait! Wasn't he the editor of the old Avant Garde and Evergreen Review magazines?
4. IF YOU HAD BEEN WORKING THE FRONT GATE AT THE DAKOTA THAT NIGHT BACK IN 1980 WHEN NASTY MARK DAVID CHAPMAN SHOWED UP, PISTOL IN HAND, TO AVENGE THE CHIEF BEATLE FOR HIS "BIGGER THAN JESUS" WISECRACK, WHAT WOULD YOU HAVE DONE?
If I'd known his intentions: Louisville Slugger baseball bat. Groin. Bats are legal. Even in New York, so I'm told.
5. "GINGER" OR "MARY-ANN": WHICH ONE'S FOR YOU, AND FOR HOW LONG?
Mary Ann. Absolutely. She seemed like she'd be a good mother. Ginger was probably frigid, tho she put on a good, uh, front. "How long" ? About 42 picas I've been told. (Perhaps I don't understand the gist of the question?)
6. WHAT SINGLE SONG, LIVING OR DEAD, DO YOU MOST WISH YOU'D WRITTEN? AND WHY DIDN'T YOU?
"Eight Miles High." Or "Let's Get Together," which The Byrds SHOULDA recorded...
7. WHOSE BASS HARMONICA WOULD YOU MOST LIKE TO BE REINCARNATED AS?
Tommy Morgan's or Charlie McCoy's. There's a good, driving, bass harp on "I Will Not Be Afraid of Women" by Dar Williams. Who was the guy in the Harmonicats? Y'know, bass harps are all "blow" only ...no draw notes. Tough to play and tough to maintain. I bought mine in '81 when they were relatively cheap ($250); now the bastards (Hohners) are $1000! They use accordion reeds, y'know... I hear there's decent Chinese ones around these days...
8. IN 2000 WORDS OR LESS: YOUR HOPES, ASPIRATIONS, AND GOALS -- MUSICAL AND OTHERWISE -- FOR YOUR LIFE AND YOUR COUNTRY?
Aspirations? Goals? Gulp! Don't feel like trying to be clever, though PAY THE FUCKING RENT ON TIME just sprang immediately to mind. And I am proud to be an American who does not watch television.
Read reviews of "Hoot" and "RickenHarper" by Rick Harper in this month's IMWT.