Tri State Killing Spree
PXC (Windraven Records)
By: Sonya Brown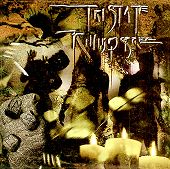 My first introduction to Tri State Killing Spree was in the form of their stage show, which prompted me to pick up a copy of their EP. Since that time, I have followed this band closely, as I was very impressed with not only their stage presence, but their sensual sound as well. I was extremely pleased to receive one of the first copies of their just-released CD, which also contains re-mixes of 3 of the tracks from the EP.

Tri-State Killing Spree hails from Seattle, and consists of Sean Sonnet, Vocals, Bass & Keys; Jyri Glynn, Violin, Baritone Violin; Matt Bayne, Guitars, Bass; and their newest member, Thomas Atwell IV, Guitars. This CD also contains absolutely wonderful graphics which were created by David Kadzielewski (who is also responsible for the incredible design of the website which is located at www.tristatekillingspree.com).

This CD is actually titled "Happy, Death, Heaven", but don't expect to find the title printed on the CD jacket. Instead, the title is illustrated in runic symbols. Three Symbols appear on the cover (P, X & C). Each rune symbolizes basically the three words: P= Happiness, Comfort, etc.; X = Death, and C = afterlife. Jyri explains that the goal was in capturing the rustic mysticism of feeling.

As with most of Tri-State's material, each track seems to tell a story of sorrow and beauty, splendidly wrapped within dark melodies. The first track on this CD is "Chance", which is a song with respect to the current hypocracy of organized religion.

The second track is actually an instrumental prelude to "Time After Time", which is numbered as a separate track, though not named as such on the CD. "Time After Time" was previously released on their EP as "Second Hand of Time". This caused some confusion, as I did not realize that this was the same track until I listened to them both back to back. Jyri explained the instrumental prelude, and why it is numbered as a separate track. "Track #2 is technically the prelude into Time after Time", says Jyri, "it was put on the album as two different tracks so that it would continue to be radio-playable," "radio stations will not play a song with a two minute intro."

The poetry within this CD comes from the mind of Sean Sonnet, the vocalist, and his words are compelling and thought provoking. I found the title of this cd recurring in the track "My Socrates", where Sean writes "so we shimmer in the shame of gods ethereal rain, canting happy death heaven errie blissful and vain". I was delighted that the band included the printed lyrics with this CD, and I asked Sean about some of the meanings behind his words.

One of my favorite tracks is "Toy Matinee", which I'm told was actually a last minute addition to this CD. Sean was 5 years old when his aunt gave him a marionette from Tijuana. He explains, "the thing was eloquently evil, it sat with its strings in the air on top of an old chair contemplating dinner. When I got older, I grew the courage to bury his ass in my grandfathers back yard. Evil thing!" This song brings to mind all of those creepy things that lurk in your closet and under your bed, and I for one have ALWAYS loathed clowns! Perhaps that is why I picked this track as my personal favorite, but I also loved the violin work in this song.

Sean explains that "Sometimes Silver" is a song of a girl that had been missing. She was found dead, hidden in leaves, under the rain. Sean heard the news on the radio, and heard the girls mother in total despair. She uttered something about the rain, it was her childs silvery hands, she felt comfort in the rain. "Sometimes Silver" brings forth very powerful emotions of pain and loss.

The last track on PXC is "Antartica". Sean feels that Antartica is "an orchestral omen," "a song about desolation, empty wishes, empty hands." "Antartica is a place inside us that keeps us from feeling alive, it becomes our darkest secrets and stores our pain".

As I write this review, "Happy, Death, Heaven" is playing softly in the background. This CD brings a calming presence, and an overture to immersed thoughts and feelings, drawing from the darkest pools of the soul..... a place we all need to visit from time to time.