The August Spies
The August Spies (Espo Records)
By: Alex Steininger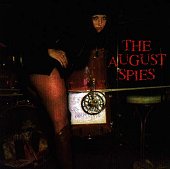 It's been a while since I've heard gutter punk rock 'n' roll with no cares in the world except to have fun and kill time. The majority of "punk" bands out there today are either heavily pop influenced or are too career oriented to not give a fuck. But, The August Spies seem to have neither of these pretensions, they just seem to want to play punk rock and piss off the right people.

The proof is in songs like "Fuck Aclone," "More Jails," "Takin Out The Trash," "Automatic," "Richard Fell," and "I Smoke," to just name a few. Actually, any of the twenty-two tracks on this album could be hand picked to represent their harsh, racing-to-the-finish punk rock mayhem that begins with a blast of fury and stops with just as much of a bang. They'll take off and crash, sometimes in the same minute, and leave you wondering what just hit you.

Here is some good punk rock that is loose, sloppy, and dirty, but who cares? It's as pure as it comes, and these guys know that. They don't seem to care about anything, and this gives their music so much credibility and honesty, you can't help but fall in love. You may like your punk with pop or whatever, but until you've tried something like The August Spies, you really don't know what you're missing. Crazy punk that is just that, punk. I'll give it an A-.