Rhythm Trip
Return of Da' Dragon (Digital Dimension Entertainment, Inc.)
By: Alex Steininger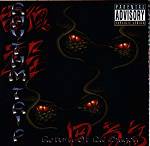 Comprised of members hailing from both New York and New Jersey, the band's sound is as diverse as those two states. Fusing hip-hop and metal with a funk drive, the band can spit out the rhymes while forcing you to headbang. They'll have you jumping around with the hip-hop groove and slamming knuckles along with the abusive nature of the band. You may believe they're riding the hip-hop/hardcore train that is still going strong, though one listen to this album will prove they're no trend followers.

From the opening rap-to-rips of "Go 4 Broke" to the crunch of "City 2 City," the band's drive is relentless as they spit out the words as fast and hard as any streetwise rapper, while also backing everything up with a pounding, concrete sound that puts most metal bands to shame. Yes, they've managed to pack the talent and know how of two very different genres into one tight package without losing a beat.

You got to give them credit, its not that easy to merge something like hip-hop and metal, all the while relying on funk for a bumpin' edge. Yet, they've managed to do it and make it sound good. They can break necks and make you dance, all in the same song. I'll give this album a B.