Angry Salad
Angry Salad (Blackbird Recording Company)
By: Alex Steininger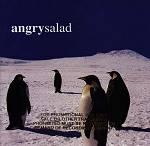 A four-piece from Boston, Angry Salad has built up a following throughout the US with relentless touring and pure dedication to their music. And the hard work has paid off, as they're newest release is on a major label, Blackbird Recording Company. Playing upbeat pop-rock with the anguish and pain of growing up and living your life day to day, the band delivers some catchy numbers on this ten track disc.

The two most obvious album standouts would have to be the opener, "The Milkshake Song," and "Saturday Girl." The first possesses a danceable mix next to some shinning pop hooks, while "Saturday Girl" slows things down even more with a sorrowful number that picks up with optimism as the chorus hits. Frontman Bob Whelan's voice sounds tired and lonely, not to mention completely truthful and sympathetic to the characters he sings about. The band helps the songs with a more upbeat feel, giving Whelan's voice a firm musical ground to stand on, as the music uplifts and the vocals bring you back down to reality.

"Empty Radio" and "Scared of Highways" are two other solid pop-rock numbers you'll find on this album. They both offer up some amazingly catchy hooks that will instantly strike a chord with you and grow on you with each additional listen. However, the remaining six songs, although they have their moments, also find the band in the horrid world of modern rock cliches. Yes, it's true, they fall prey to the tired sounds that are spit out at us day in and day out through our radio's.

Don't get me wrong. They're good and have some bright moments, but overall the songs run together and start to sound the same. They've got a distinct edge to them, especially with Whelan's voice, but with the songs running together, you get the feeling you're listening to more of the same old stuff pouring out of your radio. And for this, you might lose interest. But, the four winners on this album will always have a place in your heart. I'll give this album a B.