Sugar Ray
Fifteen Minutes Never Took So Long (Sugar Ray's Homepage)
By: David Jenison


When the members of Sugar Ray finished recording their first album so many years ago, they were afraid that they might be lost in the shuffle at their label, Atlantic Records. To ensure that nobody forgot about them, they decided to walk the masters into the label offices while wearing nothing more than jock straps and football helmets. Back then, Sugar Ray did whatever they could to draw attention AWAY from their music.

When they were first signed about five years back, Sugar Ray only had three things going for them: 1) a good looking singer, 2) punk rock influences, and 3) being from Orange County, home to bands like No Doubt and the Offspring. But Sugar Ray also had a big problem - they didn't have any real songs. After the band's debut experienced less than optimal sales, their fate hung in the balance. The label went against conventional major label wisdom by giving the band one more chance, and with the release of their second album FLOORED and the single "Fly," Sugar Ray became the luckiest mistake Atlantic Records ever made.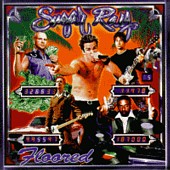 "I have to admit that I never even dreamed we'd have the success we've had," confesses a very grateful Mark McGrath. "I always wanted to be a singer, but it seemed like being a singer was the last thing on earth that I was born to do. I never felt like I belonged up on stage. The band used to do a lot of crazy antics to hide our insecurities and musical ineptitude."
Sugar Ray - who are made up of McGrath, guitarist Rodney Shepherd, bassist Murphy Karges, drummer Stan Frazier, and DJ Craig Bullock - enjoyed seeing "Fly" hit number one and FLOORED going double platinum, but there was a lot of apprehension as to whether they could repeat their success. Ironically, many years back, a psychic predicted that they couldn't.
McGrath recalls, "About the time we started, Rodney's girlfriend went to see a psychic, and she said, 'Your boyfriend is in a band with these guys, and one day they will become an overnight sensation with one song. Warn them, though, because they will fade away as quickly as they rise up!'" I always remembered that. Her prediction never provided any hope when we were struggling, but it sure made us nervous after having only one hit from Floored."
After "Fly" slowly disappeared from the charts, the label released the song "RPM" as the next single. The song barely charted. McGrath continues, "A lot of people were calling us 'one hit wonders' and to enjoy our fifteen minutes. We were enjoying our success because it was an incredible journey we went through, but there was a time when we decided that we wanted to maintain it. We were in a state of ambiguity, though, because we didn't know if we could. It may not come across, but there was a lot of fear that went into this record. We tried to deal with it through humor by calling our album 14:59, meaning that we were in the final second of our fifteen minutes."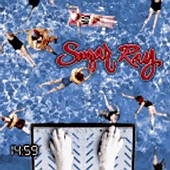 In hindsight, Sugar Ray had nothing to worry about, because their album, 14:59, enjoyed a top twenty debut and another huge single in "Every Morning." Moreover, the album will have five hits if it has one, because there are a number of potential huge follow-up singles on this album, a boast FLOORED didn't enjoy.
Sugar Ray has definitely come a long way since they formed in Newport Beach many years ago. Before focusing on the band, Mark's mother made him go to USC to get a degree, saying that he could do whatever he wanted with his life as long as he got a degree first. Originally a business major, Mark changed to communications when he nearly failed the school's easiest math class."
Mark recalls, "The math professor was really nice and said, 'I'll give you a C- if you promise not to go business.' So I decided to try communications, which is the most ambiguous major a person can have. When I walked into my first class, I saw a bunch of football players sitting there, and I knew this was the place I needed to be."
The day after graduation, Mark held his mother to her word. He brought the band over to her house, and they started jamming in the garage. The band originally did a lot of cover tunes and played parties. Back then, McGrath was so unprepared to be a singer that he had to have throat surgery after damaging it trying to do AC/DC songs. Still, after two predominately punk albums, it took "Fly" to show McGrath that singing, not screaming, was his lot in life.
With 14:59, the punk influences have been swapped for a smooth, pop-filled summertime feel that's driven by a light dub backbeat. McGrath remarks, "People say that the album has a lot of radio songs. Some people even say that it sounds premeditated, like we were trying to write radio songs. I dare someone to go try and write a hit. It's hard to do. If just anyone could fabricate hits, we'd all be doing it. 'Fly' pointed us in a direction. We didn't necessarily want to make fifteen 'Fly's' on the new album, but it definitely showed me where my voice wants to be on your speakers."
As a wonderful early precursor to 14:59, McGrath enjoyed the distinction of being one of the very few men ever to appear on the cover of Cosmopolitan Magazine. The story brought a lot of attention to the band because McGrath played up a playboy image of one who cheats on girlfriends and videotapes naked girls in the tour bus. Regretfully, the story brought down wrath in his personal life.
Mark laughs, "When the issue came out, the girl I was seeing was screaming and yelling at me. My mom called me crying and asking, 'What kind of an animal did I raise here?' They were all jokes people! Originally, it was supposed to be a little quarter page piece in the magazine, so I decided to throw some of these crazy lines in there to scream for my place in the magazine. As they started taking pictures, they liked them more and more and more, and I ended up being on the cover. I stand by the interview, but it was way too revealing, if you know what I mean."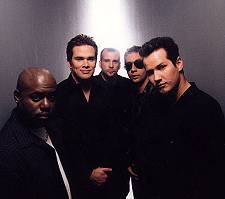 McGrath made up for his womanizing ways when he and the members of Sugar Ray fulfilled the wish of a little girl named Annie in Florida who was suffering from a chronic illness. A special charity organization was given her request to meet Sugar Ray, and the band quickly agreed.
"It was a really emotional time," recalls Mark. "She came and met us backstage and brought us all these pictures. It was really sad, but it was also life-affirming at the same time because she had so much life. I never thought we could touch someone in this way. Murphy still keeps in contact with her through the Internet. It was the most meaningful event in our career."
A lot has happened with the members of Sugar Ray in the past few years. More than anything, the experience has left them grateful and helped them more than anything to appreciate each other. Mark explains, "Sugar Ray has been together with all its original members for over ten years. We've all tried to quit before, we've all insanely hated each before, but now, at the end of the day, it's unstoppable. I'm having a relationship with five guys with no sex involved. Now that's real love, and this intertwining love goes through the group and keeps us strong. The sum is greater than the parts of this band. It always has, and it always will be."