Pennywise
By: David Jenison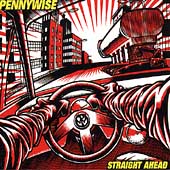 Pennywise had to sell hundreds of thousands of records and sell out venues like the Hollywood Palladium, but radio is finally starting to give the band the justice they deserve. The band's sixth album, Straight Ahead, is set for a massive debut as radio stations across the country are playing the new single "Alien" with excellent reactions from their listeners. In fact, L.A.'s KROQ, who were rumored to have banned Pennywise music from their station, began playing "Alien" and quickly saw the single become number one most requested by callers. The irony of it all, though, is that Pennywise - made up of singer Jim Lindberg, guitarist Fletcher Dragee, bassist Randy Bradbury, and drummer Byron McMakin - are not sure how they feel about the attention.

Dragee remarks, "We've always been a band that hasn't counted on radio. We've always said, we are going to write Pennywise albums, and if radio likes it, then that's great. Whatever happens, happens, but we are not a band that's going to go around kissing ass to get on the radio. There are a lot of things that people do to be on the radio, and we are not cut out for those types of things. It's all fun and games until someone gets hurt."

In Los Angeles, not only has KROQ been playing Pennywise, they have also invited the band back to be guests on their nationally syndicated talk radio program Loveline on June 7th. The rumored ban on Pennywise music stemmed from their last Loveline appearance, about four years ago, when Dragee decided it would be funny to vomit all over host Dr. Drew while live on-the-air. Dragee's upchucking also splattered across the control board, which prevented the editing of harsh cuss words being screamed at Dragee as his puke storm turned towards the show's producer and then to about a dozen office desks that were unlucky enough to be in his path on his way out the station.

"It is pretty funny," says Dragee, "because KROQ has played that particular segment more than any one of our songs. I guess that was our way to get radio. It was all in good fun. I actually saw Adam Corolla, Drew's new sidekick, at the horse track the other day. I thought about vomiting on him, but I let it slide."

Though the stations are giving them attention at radio, it is unlikely that anyone expects Pennywise to play the game which most other bands do. For years, radio stations have tried to force the band to do their bidding, and the band has always responded in a less than enthusiastic way. It is hard to win against a band that wants fans to like their music on its own merits and not because it was forced on them through radio. In fact, a radio station once demanded that Pennywise, when they came to town, only do an interview with them and not the smaller local station. Otherwise, they would ban Pennywise's music from being played on their station and any of the other stations that were owned by the same large broadcasting company. Pennywise came to town and only did an interview with the other station, and then while on stage, the band told the fans about the threat and gave the larger station a big "fuck you."

Yet the Pennywise legend goes beyond their fearless stance against corporate media strong arming. The band is legendary for wild shows and experiences, as was recently seen on the Australian leg of the Warped Tour.

Dragee recalls, "The highlight of the tour was this party boat on Sydney Harbor. It was 22 Jacks, MxPx, Suicidal Tendencies, and about two hundred people. All the bands were there raging with a full open bar. We actually did an all-star jam with Steve Soto, and it turned into a full pit totally destroying this party boat. They tried to stop the slam pit, but they couldn't, so they just made a straight b-line for the docks. Tables and chairs were flying, and they were just flooring it. When we got to shore, there were about fifteen cops waiting at the docks. Everyone filed off, and a couple people got arrested. I put on a disguise. I put my hair up in a hat, put on a jacket, hunched over, and just filed off. I got lucky because I was definitely one of the main instigators of the riot. The Warped Tour in Australia is looser than over here. Everyone piles into motor homes and goes surfing everyday. It's a blast."

When Pennywise comes to town, everyone expects chaos. However, what newcomers to the band don't expect is a heartfelt, serious intent to reach out and encourage their fans. Dragee explains, "We write about real life issues that are going on in our lives at the time, whether it's political, a friend on drugs, or whatever. We write about real life experiences, and not about love songs. The kids know that we are a real band that means what it says."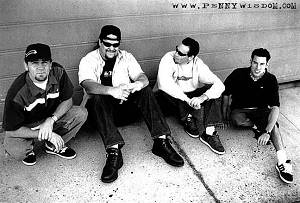 The band's positive message was inspired by founding member Jason Thirsk (bass), who suffered a tragic death a few years back. "Jason is still a big influence on us," Dragee elaborates. "When this band started, he brought these positive lyrics to the table. His whole outlook changed mine. He inspired me to think that we could do this and be what we wanted to be. The songs would even have concrete suggestions on how to make your problems turn around. Kids will come up and tell us how they were going through a hard time because their parents were getting a divorce and that one of our albums helped get them through everything. That is a really good feeling. That matters to us more than which radio station is playing us how many times."
The positive Pennywise message, which is evident on all their releases, will impact even more people through the new album. Straight Ahead is arguably their best album (or at least equal with their remarkable self-titled second album) and seems to be on a crash course with monumental success. To date, Pennywise could easily be called one of the biggest non-radio, non-MTV bands in the nation. What will happen if radio continues to build and if MTV starts kicking in? All that can be said is that corporate America media better watch out, because Pennywise will always be themselves no matter what gets thrown or offered their way.
"We are just a blue collar punk band," Dragee concludes. "We are working class band that is happy just to make a living doing music. Our goals don't go much higher than that."