Testament
The Gathering (Spitfire Records)
By: Alex Steininger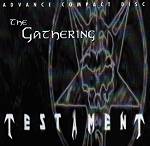 Riding the wave of metal bands that seem to be passing through as the new millennium creeps nearer and nearer is Testament, another band fueled by aggression, anger, and loud beats to back them up. Are they any different that the hordes of other metal bands that have been around in one form or another for, well, ever? No, they're not.

This is just your usual kick-and-scream over slashing guitars, shattering drums, and neck-breaking bass beats. Nothing new is brought to the table on this one. Plain old vanilla metal, I guess you could say. If you're into the aggression and pure spite that fuels the band, you might find this interesting. But, otherwise, the band will slaughter your eardrums in an uncomfortable way and make you run home crying for something to soften the blow.

Definitely not a choice pick, Testament hides their lack of talent with loud, very loud mayhem to distract you. But, it just doesn't work. This album has been done before by so many other bands, you'll hear it and agree that once "you've heard one, you've heard them all." I'll give it a D-.