Momus
20 Vodka Jellies (Le Grand Magistery)
By: Alex Steininger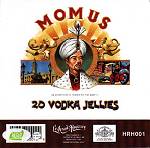 Highly influential, and a press favorite, Momus has been turning heads in Europe and Japan for many years. Then, in the September of 1996, 20 VODKA JELLIES was released in the U.S. to an audience that was unfamiliar to Momus. Sold out tours, and more critical acclaim, started to roll in as Momus built up a name in the states. Here is the album that helped establish him with a following in the U.S.

Momus has to be the most openly sexual artist on the market. He's just as comfortable talking about caressing "cunts" as he is talking about how "he was a homosexual." Some may call him twisted or warped, while others just may call him strange. All of these are true, too. But with an equally perplexing sound, hard to put your finger on, he captures your attention and will have you hanging on his every word.

"I Am A Kitten" opens up the album and demonstrates what Momus is all about. His vocals are filled with traces of humor, while his pop collage sound calls upon worldwide influences as he pulls them in and makes them his own.

"An Inflatable Doll" continues the twenty-track album; Momus' songs are very distinct, often offering a striking resemblance to the last track, due to his very unusual, very distinctive voice; but once the music sets in your mind, each song is quite different.

Everything on this album has a very unmistakable sound. If you've heard Momus, you know what he is all about, while he keeps re-creating himself track to track; if you haven't, then you're in for a bizarre time that could prove to be a treat. He's eclectic and weird enough to be recognized worldwide and equally influential, so give him a taste. I'll give this album an A-.