VARIOUS ARTISTS
Fat Music Volume IV - Life in the FAT LANE (Fat Wreck Chords)
By: Alex Steininger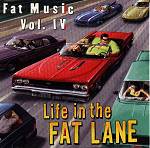 Fat Wreck Chords is back with another label sampler of sorts, mixing previously released with some unreleased material, giving the listener a good representation of what they're label is all about. And, unless you've been living under a rock for your whole life, or just aren't hip to the punk scene, you'd know Fat Wreck Chords is famous for serving up California pop-punk.

Fat Wreck Chords has been criticized in the past for their bands all sounding the same. As true as this may be, a lot of their bands are able to kick out the melodic pop-punk with such catchy hooks and sweet rhythms, you can't help but get hooked, as this compilation will quickly establish. Lagwagon's "May 16" and No Use For A Name's "Coming Too Close" will have you jumping around to the tremendously, energetically charged mayhem, while Sick of It All will throw out the classic NY/HC on "Pass The Buck."

Other notables include Swingin' Utters' "Promise To Distinction," off their latest release, FIVE LESSONS LEARNED, which is hands down the best track on this disc; catchy punk with an Irish jig to it. Also, NOFX is always a winner, and Me First & The Gimme Gimme's are the best cover band on the planet. Frenzal Rhomb, Mad Caddies, and The Ataris help keep the pop-punk catchy throughout.

If you want to expand your Fat collection and introduce yourself to some new Fat bands you may or may not have heard of, this is the place to do it. I'll give this album a B-.