Jan & Dean
Teen Suite 1958-1962 (Var'se Vintage)
By: Gary Pig Gold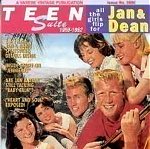 Long before becoming the self-proclaimed Clown Princes of Pop (ie: performing on stage circa '64 wrapped from head to toe in nothing but surgical gauze), Jan Berry and Dean O.Torrence, along with such fellow visionaries as Sandy Nelson, Bruce Johnston and that Spector guy, were key elements in the birth of the West Coast rock scene, I kid you not. Yes, back when Surf City was still but a fragment of B.Wilson's dysfunctional imagination, Jan Berry's Bel-Air garage was an after-class hotbed of musical activity and experimentation, as this lovingly assembled and annotated collection attests.

Sure, the songs which resulted were often crude, simplistic and even infantile? literally ("Baby Talk" peaks at #10 in 1959), but this disc, and the seven-minute Mystery Bonus Track especially, gives us a fascinating view of what two high school buddies and a single tape recorder could and did produce in those nether years after Elvis but before Motown. Good-natured, innocent, knock-about (monophonic!) fun, of course, but from such inspired horse-play would someday come "The Little Old Lady From Pasadena", "The Anaheim Azuza And Cucamonga Sewing Circle Book Review And Timing Association", and? well, you get the picture? I hope so!