Joe Henry
Fuse (Mammoth Records)
By: Alex Steininger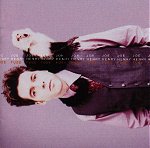 Playing a variety of instruments (including guitar, percussion, and keyboards), as well as producing himself, Joe Henry knows his musical vision and follows his heart. With a lot of control in his hands, and the talent to follow through, the outcome is a disc that feels like a rock album, but steps way beyond your standard pop-rock mixture.

Opening with "Monkey," Henry's sound is quickly brought to the attention of the listener. The song starts out like a pop-rock song, but soon the quirky percussion, which has more in common with electronica meets soft hip-hop, shadows the song and helps take it into a new direction.

Joe's deep, smooth voice also helps take the song past the pop-rock category. It fits with the music, but seems to be out of place at times (in a good way). You'll be feeling the light pop-rock foundation he's building on, but his vocals paint a completely different picture. That is what makes his songs unique. He takes a pretty common pop-rock base, shakes things up a bit, and always looks for the right places to throw a twist.

"Curt Flood" is another catchy, quirky track. Although I am pretty much anti rock instrumentals, Joe is able to pull this one off with a gritty blues-rock feel to it, along with his usual musical charisma. The song is solid and flows easily, giving the listener a laid-back song that isn't afraid to show some chops and have some fun.

Relaxed and very comfortable, as well as insightful, Joe Henry is able to have fun and keep things interesting without ignoring his audience. And this album is a testament to that. It can rock, it can be smooth, and it can go any direction it wants without sounding too far off the mark. I'll give it a B.