Pulley
@#!* (Epitaph)
By: Alex Steininger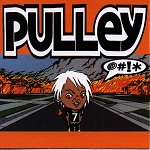 Back with another handful of pop-punk treats, Epitaph's Pulley takes the stereotypical Southern California pop-punk sound and brightens it up. Although their sound is nothing new or revolutionary, they know how to take what has already been done and add charm, pop, and lots of fast guitars to bring their songs to life...as @#!* (that's the album title) proves.

"Working Class Whore" is an appropriately titled song that not only points out the band's blue collar beliefs, but also generates a pop-punk anthem for kids and parents alike to sing when they feel like life has beaten them down and that all their hard work is nothing more than a wasted day when the clock strikes five. With lyrics that speak from experience, and pretty much sum up everything you're thinking near the end of your 9-to-5 work day, the song has a real drive that will instantly capture your attention.

But the album doesn't stop there. Jumping and shaking through one pop-punk hit after another, "Soberbeah," "Darkside," "Nothing to Lose," and "Second Best" all bring forth the clear, energetic vocals mixed over fast and hearty guitar riffs, pounding bass and drums, and a fueled drive that just won't let go.

When I first started listening to the album, I wasn't sure I'd be able to get into another pop-punk album, especially after listening to my fair share the past month. But their pop hooks and fast-paced beats just don't settle down, and are hard to ignore once you've listened to the disc for a bit. So, I kept listening and liked it more and more as the disc rolled on.

The band can sing, play their instruments, and create tight pop-punk nuggets that are definitely at the top of their class. On this album they've set themselves up as one of the premiere bands on the Epitaph roster--of course, they don't come close to the top dogs like NOFX, but that's another story. This is one good pop-punk disc, let's leave it at that. I'll give it a B+.