Oxymoron
Westworld (Cyclone Records)
By: Alex Steininger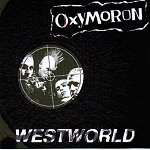 Germany's top street-punk band, Oxymoron, through relentless touring and releases, has gained a worldwide fan base. Rightfully so, their brand of punk is about as raw and pure as you can get it. There are no pretentious moments, just from-the-gutter punk that is written by, and for, the common man and his perspective on life. On their latest EP, WESTWORLD, licensed through the US to Cyclone Records, the band adds a more melodic sense to their already potent street blend.

Where as their second full-length, THE PACK IS BACK (Knockout/Cyclone Records), is a burst of punk fury from start to finish, WESTWORLD is a melodic piece that shows the band slowing down and taking more time to add something for your body to enjoy. Instead of just cranking the guitars and going full blast, they add a melodic touch to help the music go down easier (while bringing you deeper into their world).

"Westworld," the opening track, helps you ease into their melodic sound by serving up a tougher, harder-edged number that has a lot in common with the material found on THE PACK IS BACK. Of course, there is a decent melodic feel to this number too, ensuring your comfortably with both their styles.

Then on "I'm Genuine" they let loose with the no-holds-barred, melodic mayhem of their punk fury. This continues throughout other tracks like "Life's A Bitch" and "Run From Reality." "Legion '82" and "Petrol Bomb," the album closer, parallel "Westworld" in the sense that they are the bridge between the gritty street sound and the melodic bursts the band is capable of pulling off.

These guys have already conquered Germany, and are now ready to take the U.S. by storm. Watch out, because there's no telling what will happen when you put on an Oxymoron disc. Unpredictable, uncontrollable mayhem may just erupt through their raw punk sound. I'll give this album an A.