Big Rude Jake
Big Rude Jake (Roadrunner Records)
By: Alex Steininger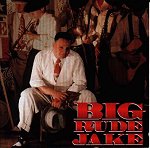 Forming in the early 90's, and then creating a new band in February of 1998, Jake combines rock, punk, jazz, and swing influences to create Big Rude Jake's style of swing. These many different influences are nicely displayed on their debut, self-titled album for Roadrunner Records.

Besides music, humor plays a big part in the overall sound of the band. "Queer for Cat," a song with the line "I saw my girl with the girl of my dreams, my girl is 'Queer for Cat'," displays the humorous side of the band next to a rock-based swing environment.

Jake's voice is very clear and easily understood, but has the kick of a shot of whiskey. Take "Buster Boy (Walk Tall)," with its jazz piano and jittery step, itching for you to get up and move while you clap your hands along with the music, Jake still maintains a presentable, calm voice that says "Hey, have fun," but doesn't let things get out of control. As for the band, they're capable of playing Bronx-style, mean gangster swing with a bite as well as sexy, silky notes that carry a genius romance for the music. But, underneath it all is the punk rock attitude that keeps the music from sounding like authentic swing, more of an updated, retro thing that refuses to repeat past performances. Instead, it prefers to find a place between the 90's punk and the 50's swing it is derived from.

Then there is in-your-face swing-goes-punk material like "Let's Kill All the Rock Stars." Starting off like a drunken bar band trying to do swing, it soon converts to a clear cut punk song with horns that gets you all wound up and ready to break things. As Jake sings "Let kill all the rock stars, put 'em six in the ground," you get the urge to jump in to the disc and help him out in his mission.

As a swing band Big Rude Jake don't quite hit the mark. They're too rock and/or punk based to really be considered a swing band. But, their swing style mixed in with all the other influences does have a nice style to it, which will get you dancing. Now, isn't that the point? Who cares if they're not completely swing, you'll still swing and have fun. I'll give it a B-.