Snowmen
Last Days of the Central Freeway (Devil in the Woods)
By: Alex Steininger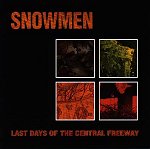 In the world of indie pop there are those bands that possess talent and don't know how to use it, bands who just don't have the skills they pretend to, or bands that have what it takes and know how to use it. Snowmen is a band who have what it takes and definitely know how to use it, as their latest offering, LAST DAYS OF THE CENTRAL FREEWAY, will prove.

"Closer," the disc opener, quickly turns your head and lets you know what this band is all about. Their pop-rock foundation isn't your standard issued pop-rock, but rather a spacey, psychedelic swirl of melody and harmony hot enough to burn in your head. And what's more, the band doesn't suffer on the lyrical side, either. The elaborate, settled sounds sit nicely next to the respective lyrics, and form a song sure to make you want to sit back and relax -- craving more as time passes.

Of course, the band will fulfil all your cravings as you desire. "Off the Bow" offers up some more spacey, lo-fi rock sure to swim around in your head note by note. The songs are laid-back and gentle by nature, but as you sit there and listen, crawling into each note like it were an addiction, you can't help but feel the intensity and strength the song conveys. That's the magic about Snowmen, they're able to do so much with such a soft, vibrant sound.

"Polar Bears" keeps the pace flowing, though this time the guitar makes a bigger presence, drawing all your attention its way while it leads the song. The light breeze of the Farfisa creeps in the background, but it is Cole Marquis' vocals and guitar work that comprise the song, gently playing together while the guitar remains in control. It even maintains its presence while the semi-quiet vocals come into the picture.

They shake things up a bit with "Skeleton Days," a minute-long instrumental that possesses a groove, soul, r&b feeling to it. The organ twirls and sings, while the rest of the band plays along. Showing a different direction to the band, it's a nice ripple in the music.

Following "Skeleton Days" is "Dirt Bike Rider," one of the hottest tracks on this disc. Continuing with their 'shake 'em up' attitude, this head-on power-pop ditty moves like a free roaming car on an empty freeway, while always keeping the soft nature of the back in tact. With the organ humming and the guitars soaring, all while the drum keeps the beat bouncy and fun, the band's rock 'n' roll spirit is alive and kicking on this one.

Ending with "City in the Sand," a song that could easy be found on Cole Marquis' solo album, they close with an intimate guitar and vocals number (with pianos sprinkled in) that will have your head spinning and mind working over time.

A solid album from start to finish, these guys should have no problem finding an even larger audience in 1999. Pop music to the last drop mixed with incredible songwriting, Snowmen are a band to keep your eyes on. I'll give this album an A.