Jim & Jesse
The Old Dominion Masters (Pinecastle Records)
By: Alex Steininger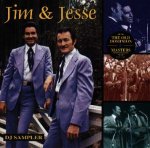 Two of the most influential artists in the bluegrass community, Jim & Jesse always stood for quality music you could enjoy -- because you knew it was going to be pure and honest. And to maintain their integrity, in 1972 they walked away from a major label deal. Opting to self-produce and self-release, to keep their music how they wanted it, they formed Old Dominion Records. Of course, they didn't realize the troubles that go into running a label so, although the music was exactly how they wanted it, it didn't quite reach everyone it could have.

Forward to 1999. Pinecastle Records is releasing the OLD DOMINION MASTERS in a four CD box set, with a sixteen page booklet and all the works. And if this twenty song sampler is any indication, this is one hot album. The old, timeless feeling is present, and the sounds are as sweet as you'd expect.

Songs like "Cotton Mill Man," "Little White Church," and "An Old Account Settled" sweep through your mind with a hot bluegrass tingle, while "Air Mail Special On The Fly," and "Border Ride" stroll through with some up tempo, swift moves that will set your dancing feet on fire and send your body moving.

The album mixes slow, moderate, and fast all together, sometimes in the same songs. They weren't afraid to slow it down, speed it up, or just kick back and have a good time. And this album proves it. If you're looking for some hearty bluegrass that will keep its precious, timeless feel, than you have just stumbled upon it. I'll give it a B+.