Cutters
Sonic Wave Love (CMC International)
By: Alex Steininger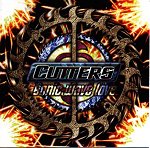 With influences ranging from funk, classic rock, pop, and synth-rock, this Bloomington, Indiana four-piece stays away from pigeonholes easily, while creating their own brand of rock music.

With the opening synth-pop/rock charge of "Satisfied," the Cutters have no problem gaining your attention. The guitars churn and buzz, while the drums hammer on the notes like thunder. Of course, the bass also plays a vital role, slamming into the picture with a thick accent that gives the music tight shape. Of course, the keyboards are also a vital tool, dancing like rain drops off a window all through the song.

The band shows they can also go light on "Freedom Runs." Replacing the electric guitars with an acoustic one, the light pop-rock feel of the song absorbs your feelings and emotions, while also sitting pleasantly next to the charged rock beats that also find their way onto this album.

The whole album is like this as well. They'll spend some time rocking your mind, some time kicking back and just having a fun time letting you sit back and relax, and then they'll spin your world around some more with keyboards that frolic and fly around like bees on a hot summers day.

There are times the band gets stuck in a modern-rock web, churning out tired riffs and uninviting energy, but by shaking things up to the point that they do, they manage to stay away from this for the most part. Although, they do visit it more than enough times.

As a whole, the album is quite good. It has its rocking moments, its thought-provoking ones, and a combination of the both. It's a well-rounded album, though it has its flaws. I'll give it a B-.