Satori
A Tribute to Bauhaus (Creativeman Disc)
By: Alex Steininger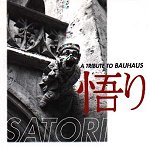 Paying homage to one of the greats in the gothic genre, one who helped shape the music, Bauhaus, these Japanese bands, ranging in style from rock to hard-edged industrial music, offer up a tribute sure to please the master himself.

If you're into electronica, or technological music whatsoever, this seems to be an album for you. The bands featured on this disc know how to use their instruments, as well as various noises, to create music that is both colorful and full of images. But, that is just one part of the compilation. The bands stir things up with music that goes from windy breezes of sounds to the head-on attack of thunder through the use of churning guitars and hammering drums.

Never a dull moment, the tribute album stays unpredictable by using light sounds one minute, and having the next band burst into something even farther out there. Sometimes something fierce, and sometimes something at the same power level, yet examining a different portion of your mind that will come into play with the music.

I'll be honest, I have no clue who Bauhaus is. But, after hearing these bands pay homage, I feel as if I do know him and his music. The bands either took on a life of their own, all thirteen of them, and transformed the songs into something electrifying, or Bauhaus already had a solid foundation and these bands just expanded on it. Of course, if they're paying homage to him through a tribute album, I'd have to go with the latter. I'll give this album a B-.