Hollywood Rivals
Get Into the Act... (Strap-On Records)
By: Alex Steininger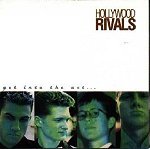 When it boils to it, Hollywood Rivals are a rock 'n' roll band of the old. Shimmering keyboards that sizzle combined with sweat-drenched energy pouring out from every note. But, if you want to start breaking down their sound, you might find some describing the band as a ska-rock act. Implementing the upbeat into their Minneapolis rock 'n' roll sound, Hollywood Rivals burst with excitement.

"Hanging around" starts off the disc with pure adrenaline. With the keyboard working every angle, the song is not only danceable and bouncy, but it is also catchy and infectious. The energy level is too warm to resist, and the stomp of the drums rings around in your head until your feet just can't handle it anymore. And that's when the fun starts to begin.

Of course, the band also shows heavy ska patterns like on "Sandbags." With a thick organ intro leading into a fiery upbeat, they kick into the ska and never let up. The danceable fun is still there, and the sweaty vibe is alive, but with the ska taking over the rock 'n' roll so much, the intensity level seems to drop a bit.

The nice thing about this band, though, is even when they incorporate a lot of ska into every track, they keep the rock 'n' roll pressure on and make the music stand out from other third-wave bands. It may be their energy, fiery drive, or sheer fun factor, but when the music starts to flow, the speakers start to bump and burst with excitement.

Finishing off with "Hold My Own," the band closes out this ten-track album with some more ska-rock crunch. A bit toned down compared to some of their more jumpy stuff, it still has the kick and drive of the other material, but seems to know the end is near and wants to settle down a bit -- ending on a calmer note.

Minneapolis has been a staple of rock 'n' roll through the years. They produced the Replacements (the best rock 'n' roll band ever) as well as Husker Du. And, although I don't agree with the band's bio, which states "...for a sound so thrilling, so unique, and so unforgettable it'll be years before you're able to remove this musical journey from your stereo system," I do think the band has a hot sound that is good for plenty hours of fun. I'll give it a B+.