Freaks from the Apocalypse
We Always Knew Better (Eiffel Trousers Records)
By: Alex Steininger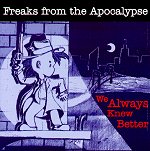 A six-piece band from Commack, New York, Freaks from the Apocalypse play pop-ska-punk with an emphasis on the punk side. Although, sometimes the ska seems to be a higher factor, it is the punk that remains the constant driving force.

Collecting material from the beginning of the bands history (early demos, etc.) to recently recorded studio tracks, WE ALWAYS KNEW BETTER serves as a to-date collection of material they've recorded (a best of amongst demos, etc.). And on their debut release, too. With this in mind, the disc does a good job of showcasing growth and maturity inside of the band. The disc jumps from rough tracks that center around a loose band slowly maturing into a team, to a sound that shows they're capable of serving up a hot hook backed by a spicy upbeat.

Sliding between these two types of settings, one minute the disc starts to wear out on you, and then the next minute you're hooked -- dancing and singing along. The overall tone of the disc is that of a rough band that, although they've grown and become a band that sounds comfortable and able to produce a catchy track, they haven't reached their full potential.

With plenty of time to reach their peak, this disc is a good stepping stone into their world. Not always the catchiest, tightest, or most appealing, the disc definitely has some good moments that make it shine. I'll give it a C.