You Am I
#4 Record (Ra Records/BMG Australia)
By: Alex Steininger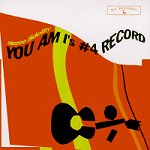 Huge in Australia, You Am I is just beginning to make a splash on U.S. soil. Combining classic, 60's pop influences with a 90's sense of style, You Am I are clearly a rock 'n' roll band. Sure, I could sit down and try to come up with a 'power-pop meets 60's pop with some British influences thrown in' description, but what it all boils down to is that rock 'n' roll flows through their blood, and that is what they are.

Leading off with "Junk," they quickly take you back to a period in time when music was about cutting loose and having fun. Not trying to be anything, or forcing any certain sound upon themselves, they allow the instruments to determine the outcome as they play them and just watch it all come together. Building you up with some fuzzy guitars, they drop some horns on you to ease the tension, before letting you drive right back in. With a sharp rhythm section, and a charismatic frontman, the band is able to keep you attentively focused while they also make you shake your hips.

The lyrics are also a big part of what You Am I is all about. And on "Fifteen" they offer up some clever lines, with some clever hooks and melodies to back them up. Lines such as "Hate yer friends, cuz they're the only ones that make you wanna die" and "The ones who shine so bright are made or broke come Friday night" are thought-provoking while offering up enough compassion to keep you feeling optimistic about the character in the song. Driving the lyrics are the vocals, sympathetic and hopeful, while also keeping enough "I've been there" attitude to put authenticity to what is being said.

Getting down and gritty, "Billy" offers up some garage rock with a touch of surf thrown in for good measures. Thick and accented, the guitars clearly are the force that makes the song go. However, the percussion has a muscular voice in the music, pounding and dancing all over the song with fierce blow after blow. As for vocals, they scream and sing into the microphone is an intense amount of energy, uplifting the song and making sure it stays lively. Never once do they let go either, because they want to keep you wrapped up in every note.

Then there is the other side of the band that needs to be exposed. "Heavy Heart" is a soft acoustic ditty, which still manages to keep the sharp lyrics and bright hooks available, while softening the tone and letting everything slip down into a quiet box. A lot of bands lose themselves in soft numbers, because what they can cleverly do while playing in a rock format, they just can't translate when the song becomes intimately light. But You Am I has no problem pulling it off. In fact, they do it so well "Heavy Heart" may just become one of your favorites on the album.

Ending with "...And Vandalism" the band manages to combine their soft and rock sides to bring forth a poppy, soft-rock number. Now, when you're listening to an album that really makes you want to shake and move, you don't want to hear about the 'soft-rock' on it. But, like I've said, You Am I can do both so well, it just means more music to love.

One listen to this disc and they'll be no questions in your mind as to why these guys are #1 chart toppers in Australia. A few more listens and you'll be in love, wondering why they haven't made it huge in America, yet. This album is full of hooks, tongue-in-cheek lyrics, and a great sense of style. I'll give it an A.