VARIOUS ARTISTS: Genre-Fest
A Northwest Comp-elation -- Volume One (Ivy Records)
By: Alex Steininger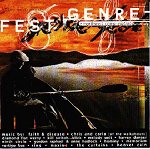 We all have heard about Pearl Jam, Nirvana, and Soundgarden. In the early 90's these bands represented Seattle -- the grunge movement, as some liked to call it. But, as with any scene that explodes, there are other scenes in the same area that get left behind. And that is the point behind Ivy Records' 'comp-elation.' They want to show another side of Seattle, a soft/dark style that contradicts almost everything its nosier counterpart offered.

In terms of media hoopla, the most recognizable band on this compilation is Harvey Danger. Offering up a track from their major label debut, WHERE HAVE ALL THE MERRYMAKERS GONE?, their contribution is one of the few that is previously (and widely) available somewhere else. The song is a soft, gentle number equipped with rain drop percussion, light guitars, and a violin to help add to the emotional tone of the song. This isn't the power-pop style that is now heard all over MTV -- it's more enjoyable and doesn't get annoying after you've heard it a few times. It's, simply put, a strong, quiet pop song.

Other acts to make their way onto this compilation are Ivy Records' own Faith & Disease, Diamond Fist Werny, Melody Unity, Ninth Circle, Vertigo Bus, Maxine, Curtains, and Hoover Cain. Styles vary between soft pop, twangy rock, Goth, and folk-ish. So, as you can see, this compilation travels the genre map, covering a lot of ground, and offering up something that shows a bit more depth than the average portrayal of Seattle.

The compilation is nice and coherent. Everything, regardless of the genre, shares common goals and ideas, and helps make everything cohesive. Listening never feels awkward, as everything acts and feels like it is supposed to be there. A bit too quite and soft at times, and with some Goth interludes I could never get into, but the general tone of it is nice. I'll give it a C.