Trinket
Trinket (RCA Records)
By: Alex Steininger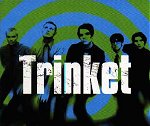 Self described as "classic rock for the 21st century," this Athens, Georgia quintet rocks on their RCA Records debut. A mixture of glam, pop, rock 'n' roll, and a fiery ambition that shows its hunger throughout the album, the guitars will eat you alive while the rhythm section will remind you over and over again of its presence.

Opening with their first single, "Unbehaved," the band delivers on your expectations with some chunky pop grooves combined with pop-glam vocals that possess a mild snarl one minute and then the next minute they jump to a guilt-free beauty that will have you singing along and humming in unison. The pop drive may be the deciding factor in keeping you listening, but the rock energy is what fuels your intensity and keeps your blood pumping from note to note.

Then there is the happy, yet content containing, joy of "All the Rave." While the 'has been, seen your glory days" nature of the song isn't upbeat for the character in question, the melodies shine with glamorous hooks that are both uplifting and warming. With a chorus that bluntly states the truth, "It's sad but true, we'll get over you," and an in-your-face line like, "You were so cute at the photo shoot, now you're overexposed with nothing to do," the band has fun and puts to rest the faded memories of past egos gone flat.

"Throwaway Culture" just keeps the hits coming. With a punchy drum beat swirling behind razor sharp hooks and dazzling vocals, the band is able to breathe energy and truth into every word while never letting go of the hooks and melodies that make the music shine so bright. With intensity and care applied to every riff, line, and beat pouring out of the music, the band isn't afraid to be the center of attention.

Sadly though, the album does have its dud moments. "Deceiver" is a bad rock number that pushes the envelope into typical, standard issued modern rock riffs with a hard edge. The song can't decide whether or not it wants to be a half-assed pop song or a guitar-driven rock song with no heart.

Eventually recovering and bringing the pop hooks back into play, the band finishes off with a soft pop-rock number that shows the band can create infectious music in a softer setting, without the soaring guitar hooks. Although, the soaring guitar hooks and hard driving melodies are what make Trinket, well, good.

Besides a few bumps in the road, the band keeps their composure throughout while throwing the listener the melodies they crave. Powerful, action-packed, and full of memorable moments, the album definitely has its time in the sun. I'll give it an A-.