Tarot Bolero
Vauderville Rising (Ace Fu Records)
By: Alex Steininger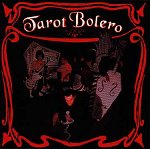 A five-piece from Washington, D.C., Tarot Bolero plays music in classic Vaudeville style. Mixing saloon-style pianos, gypsy guitars, carnival-like organs, and a ton of fun, they stir and shake things up -- putting a smile on your face.

When I first put on this CD I thought it was weird, freakish, and just so different I couldn't really swallow the sound. But, then I began to listen to it more and it grew on me. The sound is so different -- especially in modern terms -- that I was intrigued to the point of listening over and over again. It has a very reminiscent feel of the saloon scenes in the old western movies, while also making sure the music breathes 90's air.

The vocalist seems to be having the time of his life, just clowning around and being free, which helps give the sound a highly fun and energetic feel. You can't escape the party-feel, the 'forget your problems' nature of the music, and the 'let your hair down' atmosphere in which it treads water.

Experience something new and exciting. Come taste old flavors in new dress while having a blast. I'll give this album a B+.