Strangefolk
Weightless in Water (Mammoth Records)
By: Alex Steininger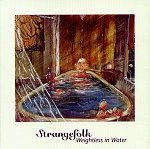 Beginning in 1991, this four-piece from Vermont blends folk, pop-rock, and bluegrass to come up with their own unique sound. For a narrower description, they fit into the jam band scene or 'hippie rock'. Independently selling 20,000 copies of their two self-released discs, with their recent signing to Mammoth Records they've been able to reach a larger audience.

Their third full-length, WEIGHTLESS IN WATER, is a friendly, inviting combination of acoustic guitars (with distortion used), bass, and drums. The songs are free flowing and full of motion, yet they don't stray too far out of control. The band plays with such passion and enthusiasm for both their fans and the music that the music sometimes takes on a life of its own and becomes a hearty jam session with the bands hands and fingers doing the walking on their instruments.

Too much though, can get tiresome. As with their jam flavor, hippie appeal, once you've taken too much you'll decide that you've had enough and shelve the disc for a bit. But, once that is out of your system, you'll come back to the disc and have some fun. Smart in limited quantities, its laid-back, carefree nature seems to over stay its invitation sometimes. But don't worry, once you put it to rest for a bit, it'll feel brand new. I'll give it a B-.