Radio Hour 491
World's Worst Antenna (Self-Released)
By: Alex Steininger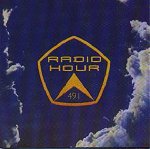 Radio Hour 491 is the musical alter ego of Tim Hort, the producer, songwriter, guitarist, and vocalist for the band. Shaping pop-rock songs into rockers one moment and soft pop songs the next, Radio Hour 491 is able to keep their sound living in both genres at the same time.

Reading through the bio, Radio Hour 491 reference themselves to the songwriting moments of "Matthew Sweet, The Apples in Stereo, Paul Westerberg, and even the coarse side of The Beatles." When I first put in the CD and started to listen, I definitely agreed with the Matthew Sweet comparisons, as well as the Paul Westerberg comparisons. Then I got the new Paul Westerberg album and really started to compare the music, not the lyrics, to that of Paul's EVENTUALLY meets his new one, SUICAINE GRATIFACTION.

But, after a few more listens, the disc began to develop its own sound. The influences of Matthew Sweet, Paul Westerberg, and The Apples in Stereo are definitely there, lurking behind Tim Hort's own musical vision, but once you've listened to the album enough it will stand out on its own.

Through the use of classical guitar, keyboards, piano, acoustic guitars, and the obvious (drums, electric guitar, and bass), the album is able to jump between sweaty rockers and pop ballads, while always sounding like Radio Hour 491.

Take "When I'm sick and Need You" for example. The song starts out like a bad arena rock number, but then the rock-meets-pop chorus breathes life into the song and creates a sweaty rocker that has all the drive and power of a good rock number, with the pop essences present to reel you in. The song's verses aren't the best, and sometimes make you lose interest, but the chorus always focuses your attention back on the disc.

Then there is "Love, Lies & Bleeding, part 1." Mainly an acoustic guitar and vocals, keyboards faintly glow in the background to help set the gentle backdrop for the song. Very intimate and refreshing, it's hard to swallow this song next to the rockers at first, but after listening to the whole picture they fit perfectly together.

"Frantic" seems like a forced rock number that didn't quite make the grade. With heavy guitar-rock fused with the underlined pop theme, this song just doesn't blend very well. The song leaves you craving something softer, much like "Love, Lies & Bleeding, part 1."

There were a few good rockin' moments on the disc, but the quality stuff on here was the pop-centered/less rock numbers that were soft and down-to-earth, but still had the pop-hooked edges that reeled you in and kept you listening. I'll give this album a C+.