My Friend Steve
Hope & Wait. (Mammoth Records)
By: Alex Steininger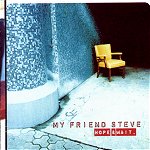 Led by singer/songwriter/guitarist Steven Burry, this Orlando, Florida quintet plays pop rock with a folk touch. From the date of forming to the date of completion for their debut full-length, My Friend Steve spent 179 days bringing Burry's songs to life.

The songs are easygoing and moderately soft. They're never too rough around the edges, but then again they're not too light. Except for "Chandeliers," a very intricate singer/songwriter number that comes off very quiet. Then there is "Charmed," a very up-tempo pop number full of hooks, energy, and more hooks. The lyrics are even worth singing along with, as they might be semi-personal, but are also universally relate-able to your personal life. Here is a number you can tap your feet too, sing along with, or just sit back and absorb.

A few times the pace of the album gets stuck in a mediocre pop-rock groove, but then there are the moments that help break the band out of this world and take them up to a level or brilliant hooks, clever lyrics, and seemingly gentle beats that are still able to knock you off your feet. I'll give this album a B+.