Goodness
Anthem (Immortal Records)
By: Alex Steininger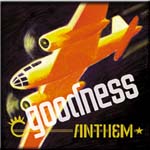 They were on a major label (Atlantic Records). Then they were dropped. Not defeated by the set back, they self-released an EP and toured in support of it. Epic Records soon caught wind of them, and now the band has found themselves a new home...on yet another major label. But why shouldn't they? A five-piece from the Seattle area, their female-fronted power-pop is sugary, yet still leaves room for plenty of energy.

The title track let's the hooks start flying, slicing through the air with some clean, guitar-driven riffs. Backing the guitars up is the hammering craftwork of the percussion, kept company by the driving force of the bass. A solid rhythm section forms the nucleus of the band, while the dual guitars help pull off sweet hooks one after another. Then there is the female-fronting vocals that help distinguish the music and give it an uplifting spirit that hums in your ears and gets you singing along with ease.

Keeping the hooks a'coming, "Bitter Man" shows just what I mean when I say the band is "power-pop." Full of energy, the band eagerly plows through this powerful, three minute and forty second track with such a crushing blow they'll either have you singing along or stunned on the floor. Not afraid to bully you into listening, the guitars serve up meaty riffs that dispose of the hooks in your ears. And the rhythm section, especially the drums, muscle through the number with thick, juicy beats that are paralyzing if you let them run you over. Still sugary, the song is a lot more muscular than you'd expect from a female-fronted power-pop act. It just goes to show you, don't ever underestimate a woman.

"Night & Day" allows the band to calm down a bit as they create a slower, heavy pop song. Not as addicting as their charged stuff, they seem to lose a bit of the hooks and energetic feeling when they tone down the song and ease into an easier-going foundation.

The highlight of this album, "Turn The World Around" shows the band at their brightest. Full of hooks, energy, and plenty of sugar to sweeten the tip of your tongue, this song seems to represent everything the band is about -- playing catchy pop music with a lot of drive. They manage to do it well, too. The verses are packed full of big guitars and heavy beats, while the chorus is all sweet sugar and bouncy melodies. Don't even think of turning your head away from this song, because when it hits you'll surrender. After you've surrendered, though, is when you'll begin to have the real fun. Your lips will move, your body will shake, and a smile will creep over your face. Who knew sugary pop could be this powerful, while still keeping you bouncing and singing?

Ending with a sappy slow song, the band pulls it off, but leaves you craving more of the tasty power-pop that makes this album so fulfilling. A decent song, sure, but it doesn't have the vibrancy or the life that the hungry tracks on this disc do. Which, sorry to say, comes off as weak. They set you up big with their punchy guitars and powerful rhythms, but let you down hard at the end.

Still a great disc, Goodness know how to craft successful power-pop tunes that are energetic, sugary, and fun -- all at the same time. When they're on, they're on, and can do no wrong. Full of dynamite and heat, this disc is sure to propel them into national attention (if this were a perfect world). I'll give this disc an A-.