Doppelganger
Meet Your Evil Twin (Radio Mafia Records)
By: Alex Steininger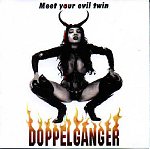 Combining two styles of music that give off entirely different impressions, Doppelganger fuse pop and Goth to come up with a dark rock 'n' roll sound you can sink your teeth in to. Sure, it's bouncy (the pop side) and dark (Goth side), but when you combine the two a new sound all together is formed. And with the addition of female vocals harmonizing and leading the way (the band consists of three females and one male), the band will both turn you on and turn your head in their direction.

"Modern Angel" quickly proves this band is something special. With an infectious riff bouncing around the song, your heart will start to pound while the music swims around in your head. Both lust and power will flow through your veins as the song reels you in hook after hook.

Of course, they don't stop there. "Wasted Days" throws more dark pop your way. a bit darker than the opener, and with less of a charge, they still manage to keep you interested in a soft, eerie vibe lurking under the pop heart. Let's not forget the seductive vocals, either. Like a whisper in your ears, the vocals slowly slip into your head and keep your ears very attentive.

Moving on to "Blue Mary," the band hammers away with some rock 'n' roll grooves that would put a lot of 'modern rock' bands to shame. The meaty drums burn like fire, while the dark-tinted guitars respect both the rock and Goth influences that make them what they are. Keeping the tone low, but thick, the bass just keeps slamming away. This song shows the band has power and can reel you in without the pop -- although their pop is very enticing and always adds a lot of flavor to each song.

Keeping in line with the more rock 'n' roll oriented style, "Dirty Crown" slides along with the heavy rock appetite. They never leave the dark Goth style that really sets them apart from other modern rockers, but they do blend more and more rock 'n' roll into the song as it moves along. Heck, even clips of blues can be heard throughout the song. And we all know blues is the granddaddy of rock.

Ending with "Mad Sky," off their debut 7", they close out with a strong Goth feel. The keyboards even lean towards the dark, twisted Goth sound. Three-chord punk riffs always make their way into the song, but the main focus is on Goth here.

A lot of bands are great at taking a sound that has been done before and breathing new life into it. Then there are other bands that are just great and taking parts of styles that have been done before and creating something totally new. The later is exactly what Doppelganger is great at. Even if you walk into this CD with expectations, you're going to be amazing. I'll give this disc a B+.