Dead Left
A Wishful Life (Self-Released)
By: Alex Steininger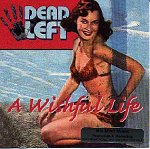 Led by singer/guitarist Aaron Stroessner, Dead Left plays pop-rock. Other influences are thrown in here and there, but when it boils down right to it, they're pop-rock. Yet, the best thing going for them is Aaron's vocals. He brings to life each and every word, adding extra emphasis on words when needed.

Sometimes the music seems shallow, with the pop hooks watered down and weak, but his voice is always in command, leading the way and keeping the music upbeat and energetic. Just when you thought you weren't going to fill a thing, his voice spits out some words that really hit you right in the heart, and bring the whole song's meaning to life inside you.

Such is the case with "Take For Granted," "Evening News," and "To Take My Place," all consecutive tracks that posses vocals that bring everything around in a full-circle and capture the emotions nicely.

There are still some good pop hooks and beats on this album, but a lot of the music seems to hide behind the vocals. The music is more submissive than forceful, and seems to be comfortable hiding behind the vocals. But, that all changes when strings, violins, or the cello are added to the mix. They take center stage and shine nicely.

A decent pop record, it shows a lot of signs for potential. There is room for improvement, but as long as Aaron's voice keeps packing the emotion, and his heart is in it, he'll be able to take this band to a higher level on their next release. I'll give this disc a B-.