Crazy Mary
Passion Pit (Humsting Records)
By: Alex Steininger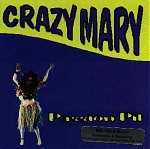 Led by Richard Morbid, Crazy Mary is a four-piece rock band from New York City. Now, rock is a broad word in terms of describing music, so I'll elaborate a bit. Their music is a combination of pop hooks, sweaty rock 'n' roll attitude, and a general garage touch to fill everything out. On their debut CD, PASSION PIT, they have a few shining moments that appear through a lot of rawness.

From the opening track ("Portrait of Stephanie Porter"), Crazy Pit's pop-garage sound already seems underdeveloped and raw. That's not to say there is nothing here. The illumination of some crafty hooks creep about, but the general tone of the song is dry and uneventful. Even when something happens, it doesn't carry a big enough punch to make you want to react.

This general tone is carried on throughout the eight-track disc. There are moments when you think they're going to capture you and reel you in, but the loose rock 'n' roll feel usually slips and makes you loses attention. The set-up is good, but they have a problem following through.

Of course, paying homage to "Johnny Thunders," they're able to whip up a catchy, powerful rock 'n' roller cut that will have you doing a double take regarding your feelings towards the band. "Everyone's got a Johnny story," declares Richard Morbid in a clean, honest delivery that makes you want to curl up around the CD and hear their tales of this rock 'n' roll icon.

Overall, the CD has its moments, but generally just doesn't whip up enough interest to really make you want to listen to it for a second or third time. I'll give this disc a C.